Houston Family Law Attorney
Issues concerning family law can be sensitive, complex, messy, or all of these at once. People can sometimes put the family's reputation over their well-being or legal rights. However, you don't have to deal with all these battles alone.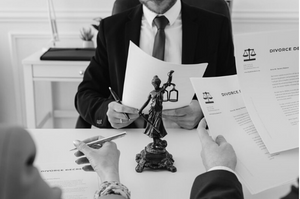 At John Buchmiller & Associates LLC, we are always ready to hear your side of the story and resolve your issues in the most efficient and least stressful way possible. Our Houston family lawyers are board-certified and experienced in handling family issues from the simplest to the most complex issues.
We know the ins and outs of Texas family law, giving us insights on how to properly navigate legal procedures and what strategies are best for a quick and favorable resolution. More importantly, we know how to handle tricky situations where emotions tend to overwhelm both parties—allowing us to give you impartial legal guidance.
From divorce to domestic violence and any case in between, we guarantee a legal service that will settle all your family law concerns in the most convenient way possible.
Call John Buchmiller & Associates LLC today at (713) 528-8133 for your Free Consultation with a Houston Family Lawyer!
Experienced Family Attorneys
When it comes to credibility and experience, John Buchmiller & Associates LLC will always be proud of our team of professional Houston family lawyers. We can handle every aspect of family law with the assurance that your case will be resolved in the most favorable way possible.
Included in our practice areas are the following:
Divorce Attorney: Ending a marriage involves a lot of legal issues that you need to address. Our Houston family lawyers are experienced in dealing with all of them and can help you speed up the process. Determining asset division, child custody, child support, and spousal support will be easier if you work with us. We can gather important documents, assess your situation, and plan out a legal strategy on how to make the outcome beneficial for you and your children.
Property & Asset Division: Dividing community property is perhaps one of the most complicated aspects of divorce. The two parties may have different views on how much each of them should keep after the marriage. Our lawyers will help you locate, value, and divide both domestic and foreign assets. We not only cater to "ordinary" divorce but also handle high-value and high-profile divorce cases.
Child Custody Lawyer: John Buchmiller & Associates LLC ensures that at the end of the case, it is your child's well-being that will benefit the most.
We will help you present evidence to support your desired type of custody as well as to facilitate visiting hours.
Our lawyers can also make your parental responsibilities clearer and help in child custody modifications whenever needed.
Child Support Attorney: Our legal services are important whether you are requesting child support or the one being ordered to pay it. With our experience, we can help assess how much child support should be and ensure that your child is getting the best support he/she deserves. This speaks of the financial support from the other parent and the more emotion-centered support from the other.
Spousal Support: One tricky subject to go over during a divorce is spousal support. After all, a former partner might not be all right with the thought of paying their ex-spouse for a certain period. Our family lawyers will help you deal with the request for spousal support or how to qualify for one, depending on your needs. We will evaluate all the necessary factors like the minimum reasonable needs of the receiving spouse as well as their ability to earn an income as soon as possible.
Father's Rights Lawyer: Although Texas law automatically grants full child custody to the mother if the parents are not married, you still have rights as a father that you can fight for. This is what our lawyers can help you with.
We will help you file documents, establish your paternity, and acquire custody or visitation rights for your child. Our goal is to help every child experience the love and support of both their parents while growing up.
Domestic Violence: This is perhaps the most sensitive case concerning family law. Many victims are afraid or ashamed to speak up, while some simply aren't sure that their family or household member has already crossed the line. If you or someone you know has been subject to abuse by their family, household members, or dating partners, don't hesitate to call and talk to us. We can help protect you and put your abusers behind bars as soon as possible.
Let's Talk – Compassionate Legal Advice
If you need a trusted professional to guide you in your legal battles, John Buchmiller & Associates LLC has Houston, TX family lawyers who can help. We won't shy away from any court hearings and will instead come fully prepared with necessary documents and plausible, persuasive arguments.
Whether you want a fast-track divorce or justice for the domestic abuse you've experienced, our team has the legal means and expertise to win your case as efficiently as possible.
Call John Buchmiller & Associates LLC today at (713) 528-8133 for your Free Consultation with a Houston Family Lawyer!